Düller Motorsport's second consecutive victory in Toyo Tires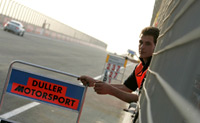 06-02-2007 -
Düller Motorsport won the first edition of the Dubai 24 hours in 2006, with a BMW E46 GTR and Peter /Quester / Werner /Campbell-Walter / repeated this success in the second edition of the race, with the (almost) brand new BMW Z4 Coupé. This car really is becoming a current success story after winning the Silverstone 24 hours and being runner-up in the Bahrein 24 hours.
The winning drivers from Bahrein, driving the Konrad Lechner Motorsport Porsche (Konrad / Kaufmann / Da Silver / Rosina / Schrey) finished second and completed the Austrian success in Dubai. Third place went to the Belgian ProSpeed team, with Penders / Lamot / Schrauwen / Van de Velde in another Porsche. Alexandra Van de Velde is the first lady ever to step on the podium in Dubai.
The very fast Lithuanian squad Oktanas, with Jurgen and Uwe Alzen behind the Porsche wheel, finished fourth, after the car spent some time in the pitlane with wheel bearing and suspension problems. Slovakian Autoracing Club Bratislava and Belgian squads G-Force and First Motorsport took fifth, sixth and seventh. This means three Belgian teams within the top-7, a remarkable result for the Belgian racing scene. M Creativ Marketing, VIP Petfoods and Hubert Bergh Motorsport completed the top-10, all of them runnig Porsches. The winning BMW also won its A5 class and beat nine class A6 Porsches, just as the Düller BMW did last year…
This 2007 edition of the Toyo Tires 24 Hours of Dubai was a very fast one, with a marginal difference between the winning BMW Z4 and the fastest Porsche teams. It was also a very open race, with numerous lead changes and a good battle until the closing stages of the race.
Oktanas beat last year's pole by over five seconds and even during the race the pace was very high. The fastest lap in the race was only six-hundredths off the pole time. The winning BMW and the Konrad Lechner Porsche laspped faster during the race than during qualifying.
All the frontrunners faced some delays: the Z4 lost about six laps with ignition problems, the Oktanas Porsche had suspension trouble and the Konrad Lechner Porsche lost the lead some hours before the end after hitting technical problems too. ProSpeed only started sixteenth after problems during qualifying, but still finished third overall. First Motorsport lost one of its Porsches with an engine problem.
The battle for class honours was also good, and the winners were:
Toyo Mirage Australia (A1 Mitsubishi Mirage), Maeder Motorsport (A2 Honda S2000), Black Falcon (A3 BMW 325i), Motors Television Team (A4 BMW 325 Compact), Düller Motorsport (A5 BMW Z4 Coupé), Konrad Lechner Motorsport (A6 Porsche 996 RSR), Solution F (SP1 Silhouette) en VW Motorsport (D1 VW Golf).
This second edition of the Toyo Tires 24 Hours of Dubai was a huge success, partly thanks to the very attractive support races, the Dubai Drift Challenge and the Lumina CSV Championship.
Toyo Tires 24 Hours of Dubai will be shown on Motors TV on the 3rd of February