Philipp Peter to second place in the first FIA-GT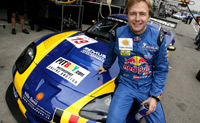 27-03-2007 - A drive that two weeks ago had not materialised led Philipp Peter to second place in the first FIA-GT round of the season at Zhuhai, just a little over two seconds adrift of the surprise winners, Bouchut/Mücke in the Lamborghini.
Peter proved that he was right on the pace, in a car he had not raced before, in Saturday's qualifying session when he put the Corvette C6.R on the fifth spot of the grid – this despite the fact that he had only signed his contract with the Belgian PSI Experience team at the last minute; right away, he got the handle of the Corvette.
At the start, Peter moved up a place, into fourth position where he asserted himself till the first pit stop when Luke Hines took over the Corvette; in spite of his lack of experience at this level of racing (this was his debut in FIA GT competition) , the young Briton gave a good performance.
Speaking of experience, toward the beginning of the last third of the race, an extended Safety Car period commenced, and his experience allowed Peter to use it to the team's advantage. With a clever drive, the man from Vienna moved up into third place, then into second at the restart, and chased after Christophe Bouchut, the surprise leader in the Lamborghini Murcielago: Bouchut eventually got away with it by some 2.4 seconds; nevertheless Philipp Peter and Luke Hines have every reason to be happy with their performance.
Says PhP, "this is really amazing, I am over the moon about this result. When you consider that this whole drive came together at such short notice, and that my team mate Luke Hines was a novice to FIA GT racing, this is simply terrific. I had quite a good start, Luke also put in some fast laps during his stint. The Safety Car period suited our strategy perfectly, and second place is just a dream."
As for the future, nothing has been decided yet, but "we will make every effort to continue this cooperation; the car really drives well, my team mate is a fast learner, so what more can you ask for! I just hope this doesn't turn into another last minute deal, I don't think my nerves can take any more of this..."
Philipp Peter's next race will be at Vallelunga on April 22, where he will be driving a Ferrari 430 with Italy'S Alessandro Bonetti in the opening round of the International GT Open.