Peter goes at the GT Open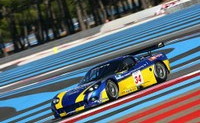 23-03-2007 - Dear Motorsport friends!
The FIA GT season starts again, this time in Zhuhai China the upcoming weekend.
For the first race I will be racing with the Team PSI from Belgium which is running a Corvette C6R. My Team mate will be Luke Hines from England. We have been testing in Nogaro two weeks ago and the car felt really nice to drive. The Team locked very professional and I hope in a good first race. You can get all the TV and race information on www.fiagt.com If I will be able to stay with the Team for the entire Championship is hard to say at the moment, but we are working on it. I will let you know…
For the rest of the season I will participate in the International GT Open Championship
www.gtsport.es
which looks to be very a competitive championship with about 40 or more cars entered. Great GT drivers will be having close racing once against the others! And TV coverage is garanteed! I will drive with my former FIA GT Team GPC Sport and my Team mate will be the Italian Alessandro Bonetti and we are looking forward to a great season.
More detailed infos will follow…
Sincerely your,
Philipp Peter