Merry Christmas and Happy 2009 !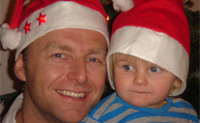 18-12-2008 - Dear Friends and Racing Fans,
One other exiting season is over and everybody is already working for the next one!
I wanted to wish you all a Merry Christmas and an Happy New Year with a lot of health and success!
Looking forward to see you all soon and thanking you very much for visiting so often my website during this season.
Special thanks also to my personal sponsors for their important support and to my friend "SidBull" for his help!
Best and fast regards,
Philipp